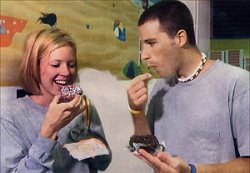 SUN, SAND AND DOUGHNUTS
This Ocean City, Maryland tradition is spreading through the country faster than you can say "hot doughnuts!" Four locations are opening soon in The Sunshine State
"First timer!" Colleen Kaufman turns and yells when I admit I've never tasted a Fractured Prune doughnut. Her husband, Tad, dips a hot wheel of fried dough in a homemade honey glaze and follows it with cinnamon and sugar. "This is our house specialty," Colleen explains. "Every newcomer gets a free O.C. Sand doughnut, but you have to eat it right here."
I take a bite. Oh my! No offense, Krispy Kreme, but I think this may be the best doughnut I've ever had.
Fun With Flavor
This funky little shop sits just off Coastal Highway at 127th Street in a small strip mall and sells the hottest treat in Ocean City – yellow cake doughnuts, made from scratch and fried to order. Customers can choose from 10 toppings and 15 glazes or simply order one of the preordained flavors.
There's a Peppermint Patty doughnut, covered in a startling St. Patrick's Day green glaze, and the Blueberry Hill, which glows neon blue. The French Toast sports a tasty maple glaze, while the Plain Jane comes unadorned.
A Beach-Town Tradition
Customers wait up to two hours to get a doughnut. So fans asked Tad and Colleen to expand their operation. In addition to stores at 28th Street and in West Ocean City, they've sold20 franchises and have stores from Delaware to Florida.