Frequently Asked Questions

We're not math people… but Shawn Soong is! A Fractured Prune® fanatic, he let us know that there are 155,648 different combinations of doughnut awesomeness available at stores offering 19 glazes and 13 toppings – and that doesn't even include our limited time offer glazes and toppings! Bottom line, Fractured Prune offers some tasty possibilities.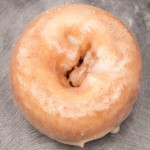 We don't play favorites. We celebrate each individual doughnut created. That said, our best selling doughnut is the
OC Sand
(Honey glaze, cinnamon & sugar).
It's a doughnut. It's a treat. Don't ruin it with calorie counts.
Fractured Prune® Doughnuts is named after the spunky Prunella Shriek, known as "Fractured Prunella" for the broken bones she suffered competing in traditionally men's sports even into her 70s. Fractured Prune® Doughnuts celebrates her legacy with a doughnut as individual as the person ordering it!
We cannot legally claim our doughnuts to be allergen free. Our ingredients include milk products, egg products, nuts, peanuts, coconut, soy products, corn products and wheat products. These ingredients may be processed in facilities that process these allergens. If you are allergic to a particular food item, it is quite possible that it is in our products or has been used in facilities that process our ingredients. Please order carefully.