There's no wrong way to make yours right!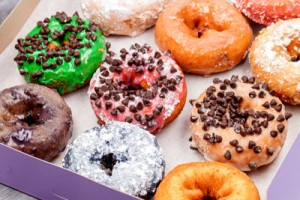 Our menu begins with an always hot doughnut and ends with all ways to make yours delicious. So go ahead – let your inner doughnut genius run wild at the Fractured Prune®!
Choose from at least a dozen glazes and toppings at each location to make your delicious*. Then protect it fiercely, cause that guy's mouth is watering!
---
19 Glazes
Banana
Blueberry
Caramel
Cherry
Chocolate
Honey
Lemon
Maple
Marshmallow
Mocha
Mint
Mixed berry
Orange
Raspberry
Strawberry
Vanilla
---
13 Toppings
Chocolate Sprinkles
Cinnamon & Sugar
Cookie Crumbs
Crumbled Bacon
Graham Crackers
Granulated Sugar
Mini Chocolate Chips
Mini Candy-Coated Chocolates
Mini Marshmallows
Powdered Sugar
Rainbow Sprinkles
Sea Salt
---
Specialty Donuts
Banana Nut Bread: Banana Glaze, Cinnamon Sugar, Peanuts
Black Forest: Raspberry Glaze, Coconut, Chocolate Mini
Blueberry Hill: Blueberry Glaze, Powdered Sugar (Find your Thrill!)
Boston Cream: Chocolate Glaze, Bavarian Cream in the Middle
Caramel Kiss: Caramel Glaze, Chocolate Mini Chips
Carnival: Honey Glaze, Rainbow Sprinkles
Chocolate-Covered Cherry: Cherry Glaze, Chocolate Mini Chips
Cinnamon Buns: Vanilla Glaze, Cinnamon Sugar
Coffee Crumb Cake: Mocha Glaze, Graham Crackers, Powdered Sugar
Cookies and Cream: Vanilla Glaze, Crushed Oreo
Creamsicle: Orange Glaze, Powdered Sugar
Death by Chocolate: Chocolate Glaze, Mini Chips, Oreo, Chocolate Sprinkles
Dirty Banana: Banana Glaze, Crushed Oreo
French Toast: Maple Glaze, Cinnamon Sugar
Funnel Cake: Honey Glaze, Graham Cracker, Powdered Sugar
Jelly: Powdered Sugar, Jelly in the Middle
Lemonade: Lemon Glaze, Granulated Sugar
Lumberjack: Maple Glaze, Bacon, Cinnamon Sugar
M&M: Chocolate Glaze, Mini M&Ms
Monkey Buns: Honey Glaze, Cinnamon, Brown Sugar, Vanilla Drizzle
Morning Buzz: Mocha Glaze, Crushed Oreo
Myrna Medley: Chocolate Glaze, Chocolate Sprinkles, Peanuts
Ms. Prunella: Mixed Berry Glaze, Cinnamon Sugar
---
Not sure where to start? We've got a few blow-your-mind, mouth-watering specialty doughnuts for inspiration!
Note: Varieties vary slightly by location. But, if you see something here you want, it never hurts to ask your local store to get it.
CAUTION: Fractured Prune® doughnuts may be habit-forming!
Think you've got a better doughnut idea? Email us and it could be featured here – with you as its creator showcased in online glory.